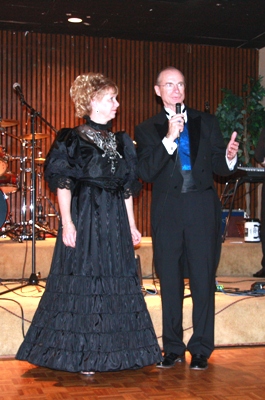 (More pictures shown below)
Southern Arkansas University Foundation and President and Mrs. David Rankin entertained donors to the University at the annual President's Gala on Saturday, December 12, at the Magnolia Country Club. This festive evening
was the final event of the University's year-long centennial celebration. The tables and tree were decorated with turn-of-the century postcards and traditional ornaments. Approximately 150 friends of SAU enjoyed hors d'ouerves of fresh shrimp, bacon-wrapped filet bites, spanakopita, fresh fruit, cheeses and cupcakes.
Guests enjoyed dancing to a live band led by Zane Glasscock and featuring vocalist
David Price. Beth Anne Rankin and Josh Kee entertained with special music, and Ray and Kay Stephens of Little Rock presented ballroom dance exhibitions of the waltz, the fox trot, and the Argentine tango.
Holiday photographs by Aaron Street were given as mementos of the evening.