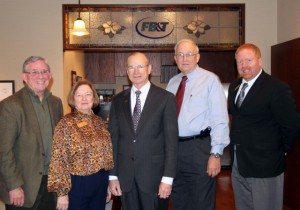 Farmers Bank and Trust of Magnolia recently donated $250,000 for the Farmers Bank Reception Center at Story Arena.  Pictured from left, are Farmers Bank President Steve Keith, Executive Director of the SAU Foundation Jeanie Bismark, SAU President Dr. David Rankin, Farmers Bank Chairman and CEO Bob Burns, and SAU Director of Major Gifts Josh Kee.
Farmers Bank and Trust, a supporter of SAU since the University's beginning in 1909, recently committed $250,000 to the reception facility at Southern Arkansas University's Story Arena.
This generous donation provides the bank with naming rights for the facility – Farmers Bank Reception Center at Story Arena, which is located on SAU's campus on the north side of U.S. 82.
"At Farmers Bank and Trust, we are happy to support activities that give back to the community," said Farmers Bank Chairman and CEO Bob Burns. "We are delighted to help Southern Arkansas University, which is an invaluable part of this region and an important industry for our community."
The Farmers Bank Reception Center and Story Arena will welcome around 15 universities and guests to its first official rodeo event at 7 p.m. nightly this Thursday through Saturday, March 13-15, 2014. Admission prices are as follows: $10 for adults, children 5-12 are $5, and free admission for children 0-4 and SAU students, faculty and staff.
The annual fall SAU Intercollegiate Rodeo was postponed in 2013 to concentrate on completing the new arena. But now that the arena and reception area are nearly complete, the men's and women's rodeo teams are happy to host a home event.
The SAU women's team is currently ranked second in the National Intercollegiate Rodeo Association Ozark Region, and the men's team is ranked fourth. According to SAU rodeo coach Rusty Hayes, around seven of his team members are on track to qualify for the College National Finals Rodeo on June 15-21, 2014, in Casper, Wyo.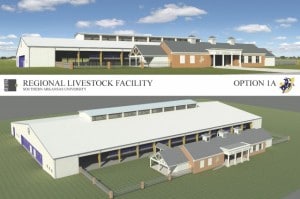 The nearly 6,800 square-foot Farmers Bank Arena Reception Center will house functions that are necessary when hosting public events and will be the "front door" for the rodeo arena. Among its features, it will house the ticket booth, concession stand, men's and women's restrooms, a grilling porch, a covered concourse and large plaza, covered walkways to the arena, an outdoor fireplace, an office area, a conference room and a tribute to Farmers Bank's century of support for SAU.
An area inside the center will be dedicated to two past presidents of Farmers Bank and Trust, Mr. Robert Samuel Warnock and Mr. Thomas Samuel Grayson.
Warnock, the first president of the bank, was the Columbia County representative to the Arkansas legislative assembly that authorized the creation of the Third District Agricultural School (eventually Southern Arkansas University). A strong supporter of the Farmers Union, Warnock contributed to the fund that helped secure the school for Magnolia and Columbia County. He later served on the TDAS board. As a state senator in 1929, Warnock helped assure the survival of Magnolia A&M and the other 1909 agricultural schools that had become junior colleges.
Grayson, a sawmill owner and entrepreneur, was one of the founders of the bank and its second president.
Along with providing an opportunity for SAU to host rodeo events on campus for the first time, the arena and reception center will also serve as an economic engine for the region.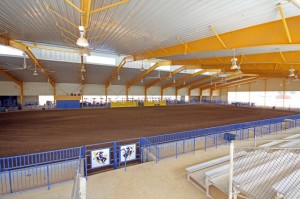 The main structure will consist of a nearly 80,000 square foot covered rodeo-style arena with a dirt floor and seating for approximately 1,100.  It will provide a place for local and regional groups to hold equine and livestock events, concerts, trade shows, and other community events. Participants at these events will bring money into the local economy by eating in restaurants, shopping in local stores, and staying in local hotels.
The SAU rodeo team will also be able to host a variety of events including high school rodeos, which will bring prospective college students to the SAU campus.
Construction of the Story Arena and Farmers Bank Reception Center would not have been possible without the generosity of a host of friends of SAU. Therrel and Jan Story of Magnolia gave $2.45 million, which is the largest gift in the history of SAU.
The Southern Arkansas University Foundation would also like to recognize the following generous donors for their investment in the Story Arena and the Farmers Bank and Trust Reception Center: Magnolia Economic Development Corporation, Willard and Pat Walker Charitable Foundation, Jeff and Donna Eaton Flaherty, Dr. David and Toni Rankin, Ann Reeves Eddy, BancorpSouth, Dr. David and Judy Ashby, Summit Bank, J.L. and Wanda Jean, Saundra Van Cleef Lewis, Mustard Seed Financial, Entergy of Arkansas, Paul and Jeanie Nelson Bismark, Ralph Weiser, Josh and Bekah Burton Kee, Julia Laney Machen, Josephine Davis, Albemarle Foundation, David and Deborah Calaway Spraggins, Mary Frank Phillips, Dr. Harold and Gene Lee Brinson, Bobbie Jean Taylor, Exxon Mobile Foundation, Thomas and Mary Ann Loftin, David and Vicki Butler, Dr. Larry and Judy Sessoms McNeal, Debbie Arnold, Harold and Judy Franks Hines, Richard and Pam Murphy, Magnolia Riding Club, Jack and Olga English, Wayne and Celia McQuiston, Jim and Linda Miller, J.W. and Velvin Maloch Rowe, John and Marjie McLaughlin Blair, Haley Burrow, LTC(R) Jasper and Deborah Lewis, and Thomas and Judy Downs Pearson.
The total cost of the SAU Story Arena and Farmers Bank Reception Center is around $4.4 million