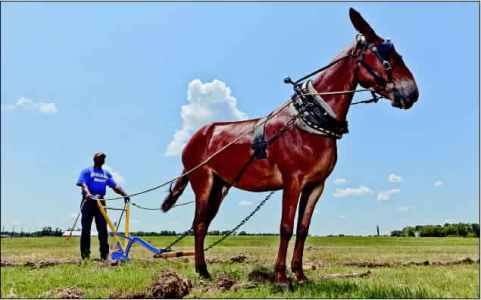 Construction is underway for a regional livestock and rodeo arena
MAGNOLIA – A groundbreaking ceremony was held on August 8, 2011 for a  new regional livestock and rodeo arena on the campus of Southern Arkansas University.  In a unique twist, the ground was broken by a mule and a blue and gold plow.
The arena will be located on U.S. 82, just west of the Mulerider Stables.
Funded in large part by a $2 million gift from Therral and Jan Story of Magnolia, the arena will be the home of the Southern Arkansas University collegiate rodeo team, providing a covered facility for practice and competition. The team is nationally competitive, sending seven to Collegiate National Finals Rodeo in 2011 and producing a national champion in 2009.
SAU President Dr. David Rankin said the arena will be much more than just a home for the Mulerider rodeo team. The facility will also be available for use by those wishing to promote a variety of events from livestock shows and rodeos to concerts and trade shows.
"We really think this arena will make an impact on the economy of Magnolia and the region," Rankin said. "It is going to draw people into town for multiple-day events, creating hotel stays and purchases at our stores and restaurants, feeding dollars back into the local economy."
The arena complex will consist of two structures, the main arena and an enclosed reception area. The main structure will consist of a nearly 78,000 square foot covered rodeo-style arena with a dirt floor and seating for approximately 1,400. The 7,500 square foot reception area will sit in front of the arena and will include the ticket booth, concession stand, an office, a meeting/conference room, men's and women's restrooms, and a grilling porch.
During phase one of construction, only the main arena structure will be built. The reception area will be constructed in phase two.
CLICK HERE to download a booklet that contains more information on the arena.