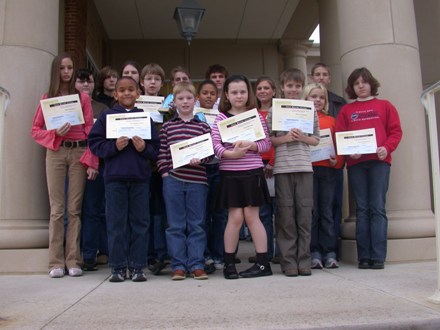 On Saturday, March 13th, area students and their teachers will visit the SAU Campus for a Model Creative Writing Workshop as part of the Youth Writing Festival underwritten by the Gerald F. and Betty Fincher Scott Academic Enrichment Endowment.  The Department of English and Foreign Language at Southern Arkansas University will host the annual Youth Writing Festival.  Over 1,000 entries are expected in this year's contest.  In the afternoon, winners will read or have their selections read to their peers, teachers, and parents.  Winners will be announced at the close of the  afternoon session.
The Gerald F. and Betty Fincher Scott Enrichment Endowment was fully endowed by Mr. and Mrs. Harold Fincher on August 6, 1996 to benefit the Youth Writing Festival at Southern Arkansas University.  Mr. and Mrs. Fincher contributed the endowment to the SAU Foundation in honor of the Scotts' many years of service on the board of Peoples Bank – Waldo, McNeil, Emerson and Magnolia.
The purposes of the festival, founded by Dr. Kathleen Mallory, are as follows:
to get students more involved in writing
to give students recognition for outstanding work
to motivate students to write more
to develop more fluent, competent writers
to help raise awareness about the importance of writing
The Youth Writing Festival is held each spring and has grown from 345 entries in 1995 to 1,153 entries last year. Students from schools across south Arkansas submit poems, short stories and essays. Judges rank the entries as good, excellent or superior. From the entries judged superior, three are chosen in each category and grade level to receive special recognition consisting of a cash prize for first, second and third place winners and a trophy for the first place winner.
Entry forms may be requested by contacting David Wingfield in the Department of English and Foreign Languages at (870) 235-4202 or by emailing dlwingfield@saumag.edu . They can also be printed from the Web site (http://www.saumag.edu/efl) after clicking on Youth Writing Festival 2010.