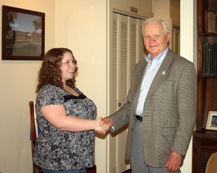 Southern Arkansas University sophomore Christy Wust thanks SAU Alum Ray Burns for his endowment to the University's nursing program. Wust said the award has inspired her to continue her education and receive a bachelor's in nursing. Photo by SAU Communications/Jessica Merritt.

MAGNOLIA–Ray Burns has established the Emogene Winn Burns, Ray Burns, & John G. Winn Endowment in memory of his late wife, Emogene Winn Burns and his late daughter, Suzanne Harvey who was a nurse. Burns met the first recipient of his endowment, Christy Wust, a sophomore working on her associates in nursing earlier this week.

"It was wonderful to meet her," Burns said. "She is excited and I think she has a great attitude and I think she has a bright future ahead of her in nursing. We always had a lot of respect for nurses in my family."
Burns, who now lives in Denver, was in Magnolia to participate in the Great Southern Arkansas Mule Ride. This event allows the community, faculty and staff, students and alumni to ride mules or ride in wagons to neighboring McNeil to celebrate the University's Centennial. Burns brought his grandson, Daniel Harvey, of Dallas and Harvey's three children along for the ride. Burns and Harvey will ride mules and the children will ride in a wagon.

The name of the University's Mascot, the Mulerider, was created because football players used to have to ride their mules to catch a train in McNeil to go to away football games. Burns attended the University in 1940 when it was known as Magnolia A&M. He is originally from the Walkerville Community which is located in between Emerson and Taylor. He had a 30 year military career which included service with the National Guard and the Air Force. After his military service, he worked at Lockheed Martin.
Wust, a native of Magnolia, is the first recipient of the endowment which was started in 2007. She said receiving the scholarship was a surprise, an honor and something that may help her go further in her education than she could otherwise go.

"This has really inspired me to continue my education and to consider getting my bachelor's degree," Wust, who will receive her associates in nursing in December 2009 said.
Wust moved to El Dorado in June and is working on her clinicals at the Medical Center of South Arkansas. With her degree, Wust said she hopes to one day work in the emergency room or work with geriatric patients.