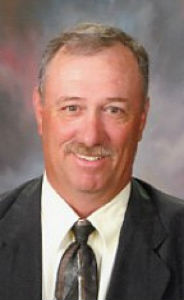 Coach Leonard Biddle was a true "people person" even before he came to Southern Arkansas University, first to work, then to study, coach, teach, play and especially to build relationships.
This July 13 will mark the one-year anniversary of Biddle's death, but his personality and passion for helping others has left a strong legacy. His mark on SAU and the community will also live on through the Leonard Biddle Golf Endowment, established through the SAU Foundation.
Prior to his arrival at SAU, Biddle led the modest life of a military fire fighter, collecting an abundance of friends wherever he went. His positive nature made people happy and proud to be his friends, or even to just say they knew him. Biddle embodied the ideal of the military community that people reach out to each other, especially when they are separated from home and country.
The success stories in Master Sergeant Biddle's life were the many people who needed and depended on him, whether briefly or for a longer time: men just getting married and starting a family; very young soldiers on their own for the first time; couples on the verge of breaking up; someone losing a loved one. When tragic events tore people apart emotionally or when someone needed guidance, he was always available.
As a coach, Biddle's mission was to make each season a little brighter than the last. His enthusiasm for SAU Golf created Mulerider fans among his friends in town, at the Magnolia Country Club, the Hope Country Club and the Smackover Country Club.  In Coach Biddle's view, coaching at SAU was a mission with no end date. He knew immediately that his love for SAU would keep him working for his alma mater for as long as he could.
In addition to coaching, Biddle also worked in the HKR (Health, Kinesiology and Recreation) Department and was available to help the student athletes and indeed everyone on campus, just as he had his colleagues in the military. His office door would never close as long as people needed him. And it did not stop when he left the office.
Coach Biddle was used to being called any time of day or night by his golfers, the students working for him and at the Wellness Center, his graduate assistants, and some of his colleagues. His dear friend, Coach Jay Adcox, former SAU Athletic Director, used to call at least an hour or two before each home football or basketball game to be sure that Biddle was coming to help. Actually, "Coach A" was just calming himself down by talking with Biddle for a few minutes.
Once he had a cell phone and could text, we constantly heard his signature funny ring tones. "I can't make it to work today," or "I have to go home over the week-end because something came up," or "Can you get someone to cover for me?" The messages seldom stopped, but the most important text Coach Biddle ever received came just after he passed away late one night. It said simply, "I love you."
Coach Biddle's interactions with his golfers and Mulerider family never felt like work to him He had a true talent for re-prioritizing when hit with issues or problems. His work philosophy was always "Just do the best you can today!"  As a golfer, he knew that some days are better than others. All he expected from his athletes was that they do their best each day.
Please ensure the continuation of Coach Biddle's mission and honor his life by contributing to the endowment started in his memory at SAU. Donations may be made to the Leonard Biddle Golf Endowment at through the SAU Foundation, P.O. Box 9174, Magnolia, AR 71754, or online at www.saufoundation.org by using the "Make a Gift" link.