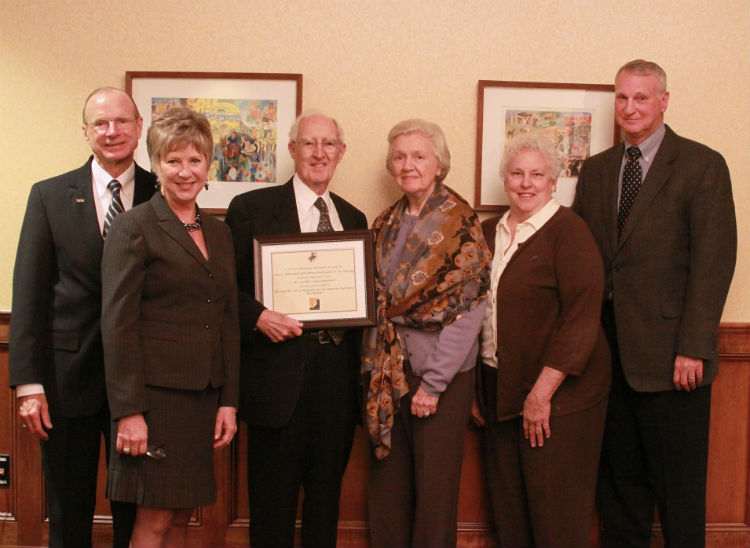 MAGNOLIA –The Louis Blanchard Accounting Endowment was established by Jerry and Lynn Mayfield and The Madison Charitable Foundation, Inc.
Blanchard came to SAU (then Southern State College) in 1956 as a professor of accounting with the notion that teaching was a temporary thing. He retired as chairman of the Department of Accounting in the 1990s with more than 42 years of dedicated service and of indelible impact on generations of accounting students. In 1998 Blanchard received the Arkansas Society of Certified Public Accountants Lifetime Achievement Award and was the 1989 SAU Honor Professor, among other recognitions in his distinguished career at SAU.
Blanchard and his wife, Martha, reside in Magnolia and are still respected and admired part of the SAU community.
Jerry Mayfield, a native of Springhill, La., graduated cum laude in 1970 from Southern State College/SAU with a BBA in Accounting and is recognized as a Distinguished Alumnus. He is currently a member of the SAU Foundation Board of Governors. Mayfield recently retired as CEO of Universal Pegasus, Inc. – one of the largest gas pipelines in the U.S.
Mayfield and his wife, Lynn, currently reside in Houston, Texas. They have three sons, J. Kelly, Matthew (deceased), and J. Luke as well as one daughter, Ashley, and four grandchildren, Molly, Sadie, Lucy and Chance.
Asked what motivated the establishment of the endowment, Mayfield said, "Louis Blanchard has been a great mentor to students who have come through the university. He has always taken an interest in the school and its students. You couldn't find better ambassadors than Louis and Martha Blanchard.
Invest in the future of SAU. Add to an existing endowment or establish a new one by contacting SAU Foundation at (870) 235-4078 or toll free (877) 235-7409 or visit www.saufoundation.org.