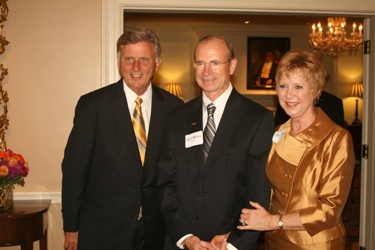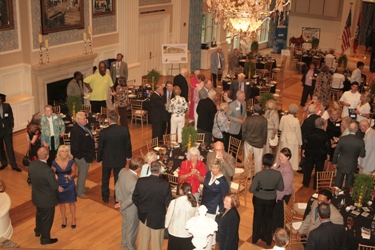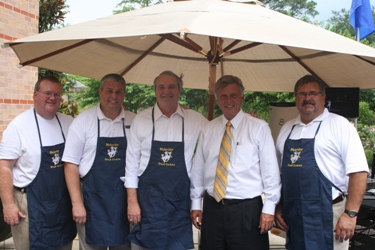 More than 100 people attended the Muleriders on Tour event at the Arkansas
Governors Mansion in Little Rock on June 30. The gathering allowed
alumni from Little Rock and surrounding areas to have the opportunity
to catch up on what is going on at Southern Arkansas University during its Centennial year. SAU President Dr. David Rankin spoke about developments around campus and SAU Historian Dr. James Willis delivered a historical account of the University's past 100 years.
Arkansas Governor Mike Beebe joined Rankin and his wife Toni to greet guests as they arrived at the Governors Mansion. Steak cookers led by Randy Lann endured stormy weather to prepare steaks just like those enjoyed at the World Championship
Steak Cook-off each May in Magnolia. Those who arrived early to the event might have seen Beebe, his wife Ginger, and their German Shepherd,
Viper, milling around with the steak cookers and enjoying visiting before the brief storm.
The rain didn't dampen spirits as the group enjoyed their steaks with traditional sides of baked potatoes, rolls, salad, corn and green beans. The evening also included entertainment
by Miss SAU Kristen Mosely who sang, "Stuff Like That There," and Dr. Rankin's daughter Beth Anne Rankin who played "The Battle Hymn of the Republic" on the piano. Mosley will be competing in the upcoming
Miss Arkansas pageant July 15-18 in Hot Springs and Rankin, who was Miss Arkansas in 1994 and a Miss America talent winner, will co-emcee on the Friday evening of the event.
The next Muleriders on Tour event will be November 7 and will be in conjunction with the Boomtown Classic in El Dorado. For more information,
go to www.saumag.edu.