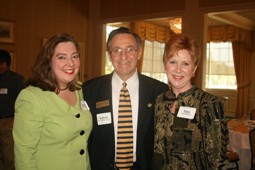 Southern Arkansas University hosted alumni and friends of the University on Tuesday, March 17, at the Texarkana Country Club in Texarkana, Ark. The event, dubbed "Muleriders on Tour," was sponsored by the Office of the President, the SAU Foundation, SAU Alumni Association, and the Mulerider Club.
Local hosts included Dan and Judy Carmeli, Eddie and Emmie Gamble, Allen and Shelby Brown, Amy Jo Freedman, and Buddy and Sherry Hawkins.
Created by Act 100 of the Arkansas General Assembly in 1909, Southern Arkansas University is holding events like the one in Texarkana as part of its Centennial celebration. Attendees heard an update on the University from Dr. David Rankin, president of SAU. Bill Keopple, head football coach at SAU, gave a preview of the 2009 Mulerider football season and the annual spring scrimmage game scheduled for March 19. Keopple was formerly the head coach for the Arkansas High School Razorbacks in Texarkana.